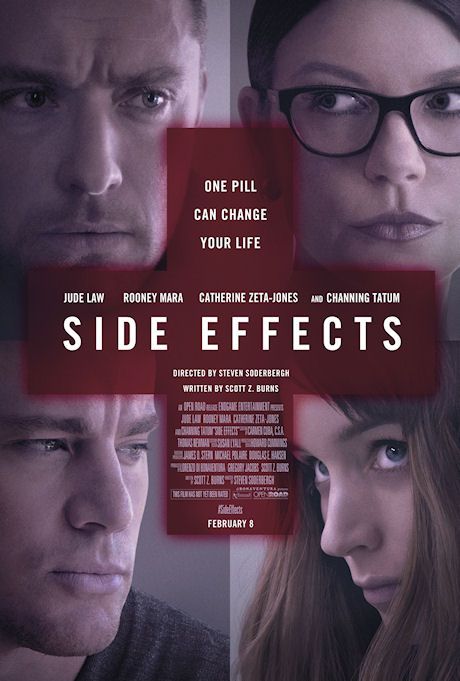 In
Side Effects
, Emily Taylor (Rooney Mara) is understandably under a lot of stress. Her husband of only a few years, Martin (Channing Tatum), has just gotten out of prison with a sentence nearly as long as their marriage has been. Despite him being back home, she's still not very happy, so she starts to see a therapist, Dr. Jonathan Banks (Jude Law). Dr. Banks ends up prescribing her a new and still under-review new anti-depressant, as suggested by Emily's former doctor, Dr. Victoria Siebert (Catherine Zeta Jones). They seem to make her better, until she commits a horrible crime. It all seems to be a side effect of this controversial new drug, but the truth is so much more complicated.
I'll be honest, I wasn't expecting much from any of the acting in this film. I hadn't really seen Mara in anything other than
The Social Network
, in which she played a somewhat minor character. Channing Tatum has been somewhat of a pretty boy to me and it seems like it's been awhile since we heard from either Law or Zeta Jones. Regardless of my preconceptions, they all blew me away. The movie itself was great, too. At face value, it seemed to be a cautionary tale about the use of prescription drugs, but ended up being a very different type of thriller. It makes me sad that this may be the
last film
that Steven Soderbergh directs, but he's definitely gone out on a high note.
Mini soundtrack:
Thievery Corporation -
"The Forgotten People"