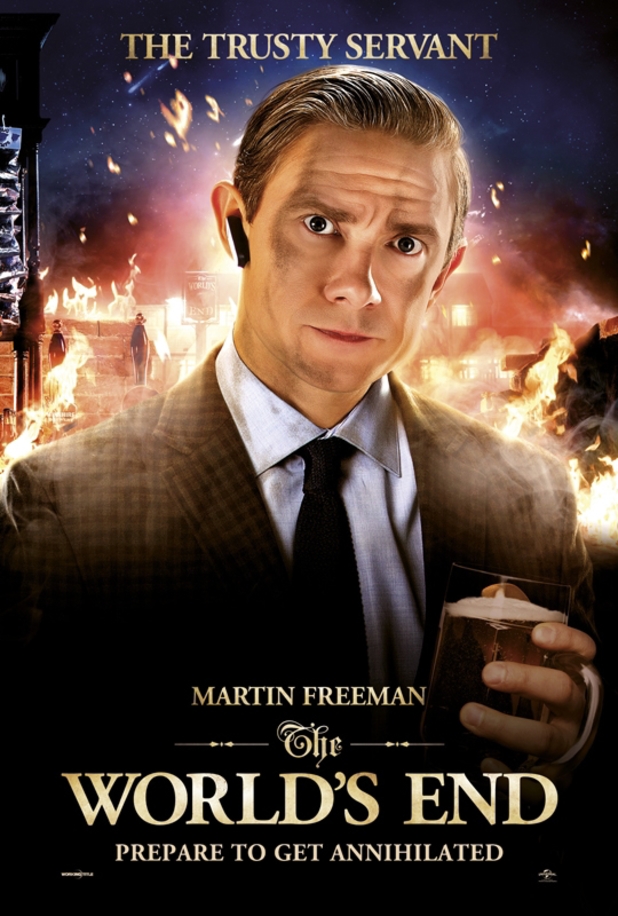 Director: Edgar Wright
Writers: Simon Pegg, Edgar Wright
Stars: Simon Pegg (Gary King),
Nick Frost (Andy Knightley),
Martin Freeman (Oliver Chamberlain),
Paddy Considine (Steven Prince)

The World's End is the last film of Wright's and Pegg's Three Flavours Cornetto trilogy; preceded by Shaun of the Dead and Hot Fuzz. In the film, Gary King (Pegg) is an overgrown party boy who longs to complete a bar tour in his home town known as the "Golden Mile." He convinces his three straight-laced childhood friends to join in, though each is reluctant to participate. Shortly into their journey, the group discovers something strange about the townspeople, they've all been turned into robots. The night becomes a struggle to survive, with Gary still trying to drink a pint at every pub on the tour.
Mini
soundtrack
:
Pulp -
"Do You Remember the First Time?"
Teenage Fanclub - "
What You Do to Me"
The Doors -
"Alabama Song (Whisky Bar)"