Atlas Sound -
Parallax
This album has been streaming on the New York Times entertainment blog for about a week and it has already become one of my favorites of the year. Like his band's, Deerhunter's, album last year, this release seems to have a more direct approach melodically. It does this without sounding like something you've heard before, though. It's officially released today, but I was able to pick up the vinyl (and associated mp3 download) a few days early. It's been spinning almost constantly.
"Te Amo"
The Bees -
Every Step's a Yes
Sometimes, I hate the difference in release schedules between Europe and the US. Typically, an album will be released on a Monday in Europe and the following Tuesday in the US. This album was released abroad more than a year ago and is only now seeing the US release. Granted, I have been listening to it for about that time (I don't like to wait). The album has a similar Brazilian-inspired sound as Little Joy about a year before. Interesting, given that both albums were at least in part inspired by Devendra Banhart, who himself has developed a sound that often borrows from other countries.
"Silverline"
Brian Eno -
Panic of Looking
In corner one of the battle for this year's busiest musician is Brian Eno. Eno has already had two releases in the past year. The instrumental
Small Craft on a Milk Sea
was released late last year and a full-length collaboration with Rick Holland,
Drums Between the Bells
in July. As a producer, he also worked on Coldplay's recent
Mylo Xyloto
. This release is a continuation of his work with Holland, offering up six more songs with the poet.
"The Real" (from
Drum Between the Bells
)
Cass McCombs -
Humor Risk
In corner two: Cass McCombs. Cass released a full-length album,
Wit's End
, only in April. This, too, is a full-length (no measly EP for Mr. McCombs). I was afraid that, coming so soon after his last release, this would feel half-assed. It doesn't, though. While it may not be straying too far from the sound on his last release, the songs remain perfectly nuanced, with the same sense of introspection.
"The Same Thing"
David Lynch -
Crazy Clown Time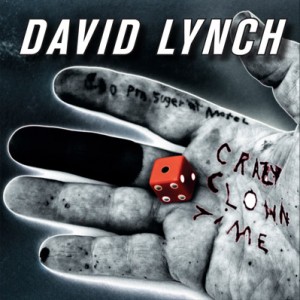 So...corner four belongs to this man, and for good reason. He seems to have dipped his finger into every pot. Directing, painting, design, music, even acting. Just this year, he has produced concert elements for Interpol and Duran Duran, released an album,
This Train
, with Chrysta Bell and opened a nightclub in Paris. This album is a solo one. It opens with an incredible duet with Karen O. I can't say, however, that the rest of the album has the same appeal. At times it seems to rely too much on vocal manipulation. It makes for an interesting, though sometimes inconsistent listen. Still, a great release from someone so able to create amazing work across so many media. With all of this, though, I would think the cover art would be better.
"Pinky's Dream"
Kurt Vile -
So Outta Reach
&
Smoke Ring for My Halo
deluxe edition
I've said it once, I'll say it again; I
hate
it when artists re-release albums only to add a few extra songs. If you bought it once, you probably don't want to buy it again. Kurt makes it a little bit better, by releasing the most of the new tracks as a separate EP with the deluxe edition of the album; which I think (hope, really) can be bought without buying the rest of it again.
"The Creature"
Noel Gallagher -
High-Flying Birds
Liam Gallagher recently said that Noel (his brother and former Oasis bandmate) was
no good without him
. Having heard Liam's Beady Eye releases and this, however, I think the opposite is the case. Considering he was the primary songwriter for Oasis, it makes sense. He seems to do a better job of pulling from British traditions in rock and even Oasis' own catalog. Both brothers tend to be more egotistical towards each other than is really warranted, but I say Noel is winning this battle...for now.
"Everybody's on the Run"
Sigur Rós -
INNI
I'm kind of using this as my introduction to Sigur Rós, though I dabbled around a bit with the album
Von
. This is a live album that encompasses both an audio release and a video release. It also represents the only new work from the band in three years, though only one song, "Lúppulagid," is actually new. The rest of the tracks span the breadth of the band's work. Considering this, it should be a good place to start to get a bit more into their work,
"Lúppulagid"