Amanda Palmer -
Theatre Is Evil
In what could end up being the first big success story for an album funded almost entirely by Kickstarter, Amanda Palmer is dealing another hand in a music industry now marked by constant changes in funding and distribution. She raised over $1 million on the site and this album will be released on her own record label, 8 Ft. Records. Hopefully, this week, we will see that her do-it-yourself attitude and the investment of hundreds of Kickstarters will have paid off.
Watch:
"Want It Back"
The Avett Brothers -
The Carpenter
The Avett Brothers are generally more highly-regarded for their earlier albums than for their later work (at least, by the indie crowd). This will be their second album of aiming for something a little bit higher than rowdy banjos, also the second produced by super-producer Rick Rubin. I got in on
I and Love and You
, but hated it on first listen. It took a good friend to introduce me to earlier works like
Four Thieves Gone
for me to fall in love with the group and I've come to appreciate their last album. I feel that I will love this, too, though it may never live up to the energy and fun of their earlier work.
Watch:
"Live and Die"
Bob Dylan -
Tempest
Bob Dylan is one of those rare artists that managed to maintain a high quality of work even as he got older (*cough* Rolling Stones *cough*). True, he's had some dips, but at 71 years old, his music is nearly as rewarding as what he put out in the 1960s. With this release, he seems set on continuing his run of great music and, as you'll see below, pair it with awesome videos.
Watch:
"Duquesne Whistle"
David Byrne & St. Vincent -
Love This Giant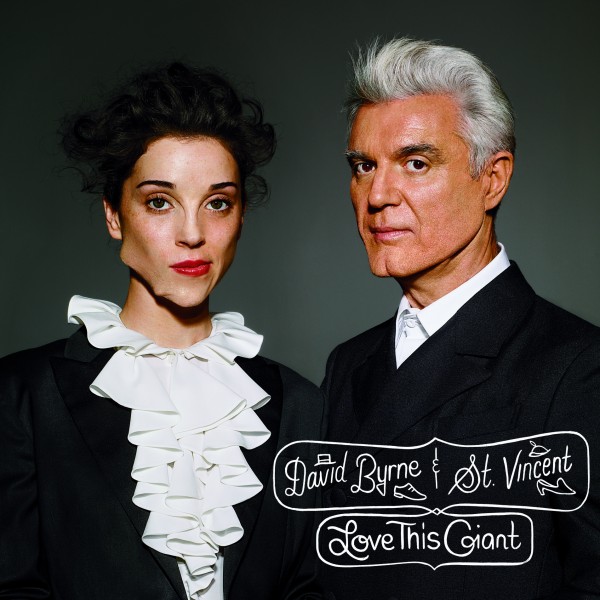 David Byrne has become a veritable king of collaborations. He has previously released albums with Fatboy Slim and Brian Eno. This collaboration, however, is a bit of a dream come true for me. I've become a huge fan of St. Vincent in the past year or two and have loved David Byrne (and, of course, the Talking Heads) for quite a while. They're both very interesting in terms of style and overall aesthetic, which may provide one of the most interesting albums of the year.
Watch:
"Who"
io echo -
Ministry of Love
The run-up to this release has been a somewhat frustrating one. The band first came to some prominence about three years ago with the release of a single, "Doorway." I loved the song, but there was scant information on the band outside of that single and a subsequent EP. I more stumbled upon this announcement because they still haven't gotten much coverage from music publications, perhaps they waited too long. Still, I'm excited for this release and to see what they can do with a full-length.
Watch:
"When the Lilies Die"
Jonny Greenwood -
The Master
This decade must be the years of Radiohead side projects. 2010 saw the release of drummer Philip Selway's debut and this year, we are seeing the debut singles from Atoms for Peace, Thom Yorke's side band. This is not Greenwood's first go-around, he released his first solo record in 2003. This record is a score for the movie of the same name, which will be released this week, as well!
Listen:
"Able-Bodied Seaman"
Parenthetical Girls -
Portrait of a Reputation
Zac Pennington and company have done a masterful job of fusing classical with pop. Over the past two years, they've been focused on their
Privilege
series, comprising five EP-length components. This is the fifth and final piece of the album.
Listen:
"Curtains"
The Presets -
Pacifica
This is another band that I kind of forgot about in the time between this and their previous album,
Apocalypso
, released in 2008; this is their third overall. I stumbled across their stunning video for "Ghosts" a couple of weeks ago and remembered why I loved them...I didn't even know that they were releasing a new album!
Watch:
"Ghosts"
The Raveonettes -
Observator
I was surprised to hear that The Raveonettes were releasing a new album this year, especially since it seemed like just yesterday that
Raven in the Grave
came out (and it was just
last year
). They've been fairly steady in their style, making few changes, maybe only to tone down on the noisiness of their sound. Based on the early tracks from this album, it seems like it will remain the same. Some may find it boring, but if it ain't broke...
Watch:
"She Owns the Streets"
The xx -
Coexist
The
Pitchfork review
for this album presented one of the most true statements I've ever heard about this band, that they "filled a void most of us didn't know existed." It's very true, the band seemed to exist at multiple intersections of music; old and new, electronic and pop. They left themselves a lot to live up to and, while this seems like it will be a great album, I'm not sure they'll ever be able recreate
xx
.
Listen:
"Angels"