Kimya Dawson and Friends -
Thunder Thighs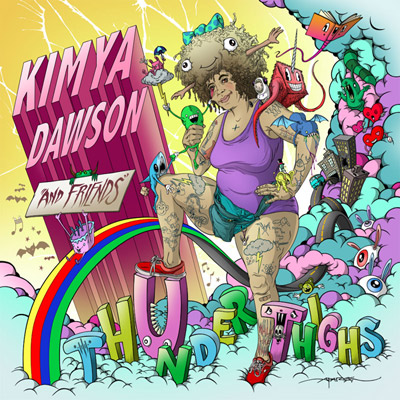 I can't hear Kimya's music (regardless of the project it's a part of) without the movie
Juno
playing in my head. Sure, she existed long before the movie, but she just seems to embody that aesthetic. What I've heard of this latest release is no different. It's simple and kinda cutesy.
"Driving Driving Driving" video
M83 -
Hurry Up, We're Dreaming
I'm so glad I didn't have to wait long between this and the teaser EP Anthony Gonzalez (AKA M83) put out a couple of weeks ago. I heard the track "Midnight City" a few months back and was a little disappointed (OK, a lot) that the album it was on was yet to be released. I've spent the time sense getting a little acquainted with his past albums, but that's just upped the anticipation for this one!
"Midnight City"
My Brightest Diamond -
All Things Will Unwind
I missed the chance to see this artist live back in March. She (Shara Worden) performed as a part of the MusicNow Festival. I, however, didn't realize until after the event that Shara Worden was My Brightest Diamond (
thunks head
). Shara produces music with a strong classical sound, a bit like a female Antony and the Johnsons. A friend introduced me to her music, but it took a while to get into, but totally worth it.
"Be Brave" video
Real Estate -
Days
This should have been released two months ago, it's a perfect summer album. Staying true to the sound on their first album, the music feels nostalgic and summery. It's like the audio equivalent of a vintage beach video. I guess it's better fitting, though, to put it out in October, so that it gives us a taste of the summer that most of us are probably already starting to miss!
"It's Real"